2022 Year in Review: The Journey Defending Press Freedom
21 December 2022, 12:21 pm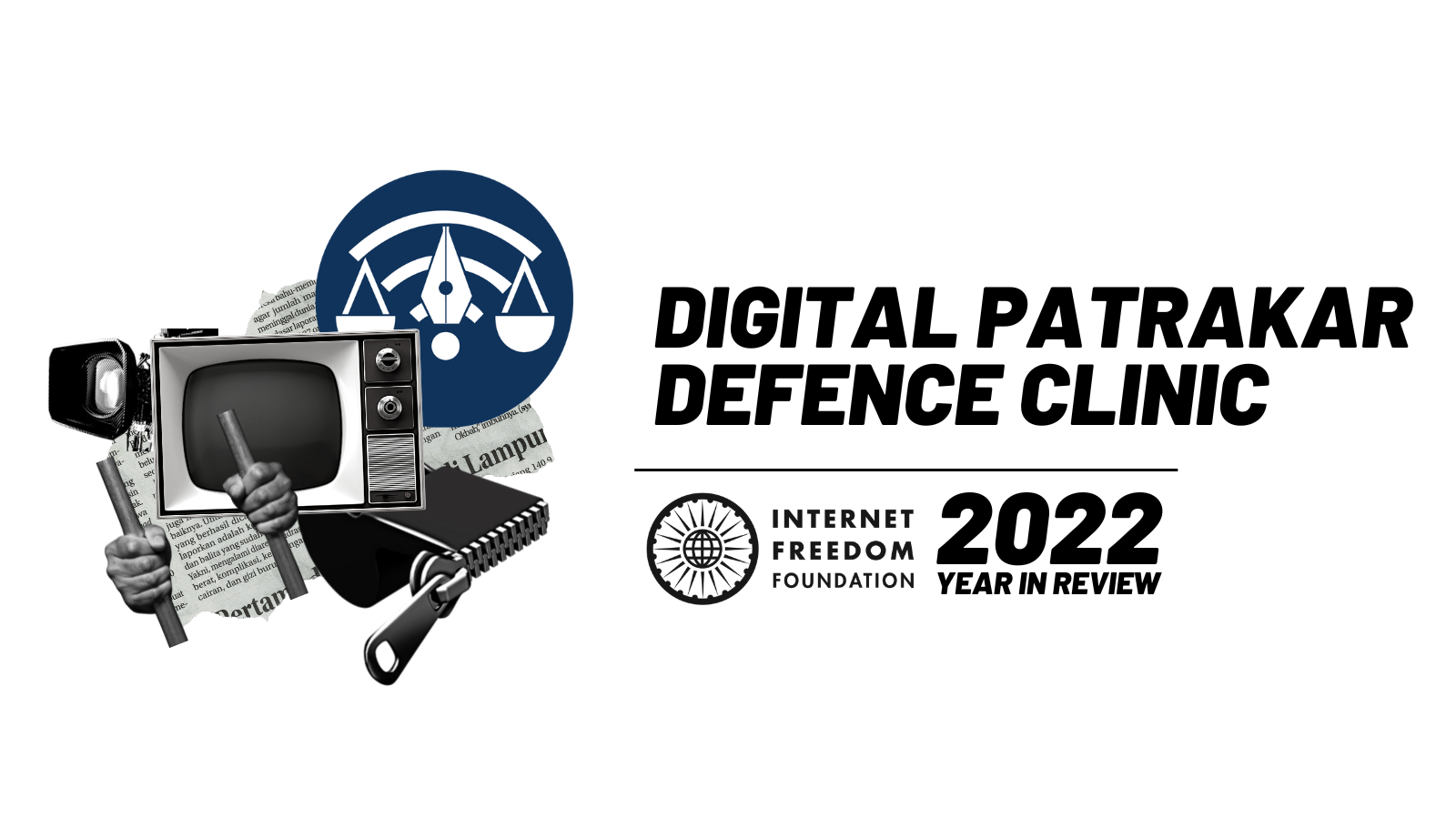 The Digital Patrakar Defence Clinic was founded by the Internet Freedom Foundation in September 2021,to provide pro bono legal aid and assistance to journalists in need. In 2022, the DPDC continued its efforts to address issues affecting the freedoms of journalists by responding to concerns pertaining to website blocking, public record erasure.  Here is a snapshot of our work over the past year.
At the intersection of free speech and the right to access information lies the Clinic's 2022 effort at incremental impact towards defending press freedom. The Clinics were conducted on a weekly basis where journalists discussed their legal issues with lawyers Abhinav Sekhri and Sanjana Srikumar via Zoom meetings, and sought advice on a variety of issues. Over the past year, DPDC has provided legal advice to 45 journalists over the course of its weekly sessions, held every weekend. We have provided direct legal representation to journalists in 12 cases, hosted our first edition of Impolite Conversions - a convention discussing media, law and policy and published 5 practical guides in furtherance of our effort of legal literacy for journalists.

We were successful in providing direct legal representation to journalists in a diverse set of cases, we have also provided advice on variety of issues faced by journalists, the details of a select few are below:
Delhi HC ordered MeitY to Give a Copy of Website Ban Order and Post Decisional Hearing:
The journalist, in this case, had their satirical website banned by the Ministry of Electronics and Information Technology (MeitY) without any prior notice or hearing. The website was an attempt to use satire to encourage conversation around a regressive practice prevalent in India. We represented the journalist before the Delhi High Court and were able to secure an order. The Court directed MeitY to provide the journalist a copy of the order banning their website and grant a post-decisional hearing to the journalist so they could defend their website. This is an important victory as this is the first time Meity provided the censorship order, or a hearing, to a content creator, setting up a strong precedent for all future journalists and media personnel alike.
Supreme Court Restrains Police from Acting Against Journalists Tweets:
We represented a journalist who reported/expressed their views on Twitter on lack of state-action during the incident of violence against Muslims in a North Eastern State of India. On the basis of the tweet, the Petitioner was accused of offences under various provisions of the Indian Penal Code, 1860 and Section 13 of the Unlawful Activities (Prevention) Act, 1967.   Lawyers at the Clinic assisted in filing a writ petition before the Supreme Court seeking quashing of the summons issued against them, and were successful at obtaining a stay. The journalist cannot be arrested until the matter in the High Court is disposed of, ensuring the journalist's physical liberty.  
Challenging Part III of the IT Rules, 2021 to protect digital news media:
On February 25, 2021, MeitY and the Ministry of Information and Broadcasting released new rules that sought to increase government control over the internet. Part III of the rules required digital news media to subject themselves to a 3-tier grievance redressal mechanism headed by the  Ministry of Information and Broadcasting, and follow a code of ethics. The clinic helped a prominent legal news portal file a petition in the Kerala High Court challenging the new rules. The High Court of Kerala restrained the Union Government from taking coercive steps against the news portal. The government appealed the case to the Supreme Court and our lawyers are representing the news portal in the appeal. In 2022, they were able to ensure the High Court of Kerala's order was not set aside by the Supreme Court.
Defending Access to Public Court Records:
A legal reporter / online database website, in this case,  approached the clinic for legal aid. Two cases had been filed against the website by separate Petitioners. In those cases, the petitioners are seeking a takedown of court orders of criminal cases where they were accused, under a purported 'right to be forgotten'. Lawyers at the Clinic assisted the website, in arguing that the 'right to be forgotten' does not extend to a public record, such as court records, and that reporting such court records falls under the database's right to free speech. Both matters are currently ongoing in the Kerala High Court and the outcome of the same is awaited.
Furthering Accountability by Demanding MeitY Provide a Copy of its  Censorship Orders:
An actor turned activist and political commentator's twitter account was temporarily banned on government orders on two separate instances without any prior notice . When they sought more information, reasons and a copy of the blocking order from MeitY, the information was denied on grounds of 'national security' and that the Indian law granted strict confidentiality to such orders. The matter was filed before the Bombay High Court where notice has been issued and pleadings have completed.
Demanding Transparency in Investigation of Pegasus Spyware Use:
Two journalists and activists who report on state atrocities against adivasis in the state of Jharkhand, found their names in the list of journalists targeted by the Pegasus spyware in India. We represented the Parties before the Supreme Court of India in seeking investigation of the use of Pegasus. The Supreme Court ordered the constitution of a Committee to investigate the use of Pegasus on digital devices. The Committee's Report (filed in a sealed cover) suggests that there is malware found on several phones, but the Committee could not confirm whether the malware was Pegasus. We are taking legal steps to ensure that this Report is made available to the Petitioners and to the Public
In addition to providing legal representation, making legal rights and remedies accessible to journalists has been at the heart of our endeavours here at DPDC. Building off of this mission, we have been successful at publishing practical guides, in collaboration with Bharucha and Partners (which can be found here), covering topics like protection of sources, lookout circulars, sedition, defamation and more where we addressed contemporary legal issues journalists have been facing.
On September 10, 2022 the Internet Freedom Foundation in collaboration with Newslaundry, hosted the first ever edition of "Impolite Conversations" at the India International Centre, New Delhi and was received with tremendous success. The idea of the event was to host senior lawyers and senior journalists to have discussions about issues at the intersection of media, law, and policy. We have noticed that these discussions have become rarer in India over time, and may even be considered Impolite. This year, Impolite Conversations was physically attended by over 200 people and included panels with legal luminaries such as Senior Advocate Mr. Chander Uday Singh, Ms. Rebecca John, and prominent journalists like Ms. Kalpana Sharma, and Mr. Pratik Sinha. We received outstanding feedback from both the panellists and the attendees alike. We would like to thank all of our partners and donors for their support that has kept the Clinic running.
What is in store for the clinic in 2023?
With the clinic having turned 1 this year, we are optimistic about its growth in 2023. We will continue to offer legal aid services to as many journalists as possible and continue to create practical guides to aid with legal literacy.
In 2023, we will focus on expanding the Clinic's networks of journalist unions and lawyers, particularly in regional towns beyond metropolitan India. We will also develop the capacity to offer training and support to journalists in regional towns. This will require resources to ensure growth and sustainability. If you would like to support the DPDC, please get in touch at [email protected]. In collaboration with Newslaundry, we will host the second edition of Impolite Conversations in April. We strive to build upon the first edition and foster a culture of critical engagement with contemporary challenges to Indian press freedom. For the second edition of Impolite Conversations, we intend to scale the event by platforming a more diverse set of speakers to help contribute to a comprehensive discussion.
In addition, we would love to hear your suggestions on how we can improve. Please fill out [this form] to let us know what we should focus on in 2023 or how we can make our current work more effective.
Lastly, we are grateful to the volunteers and partners who joined us for this project. And, as always, we are thankful to our members for their support, belief, and trust, without which this initiative would not have been possible.