DPDC PRACTICAL GUIDE SERIES | DEFAMATION
23 March 2022, 01:33 pm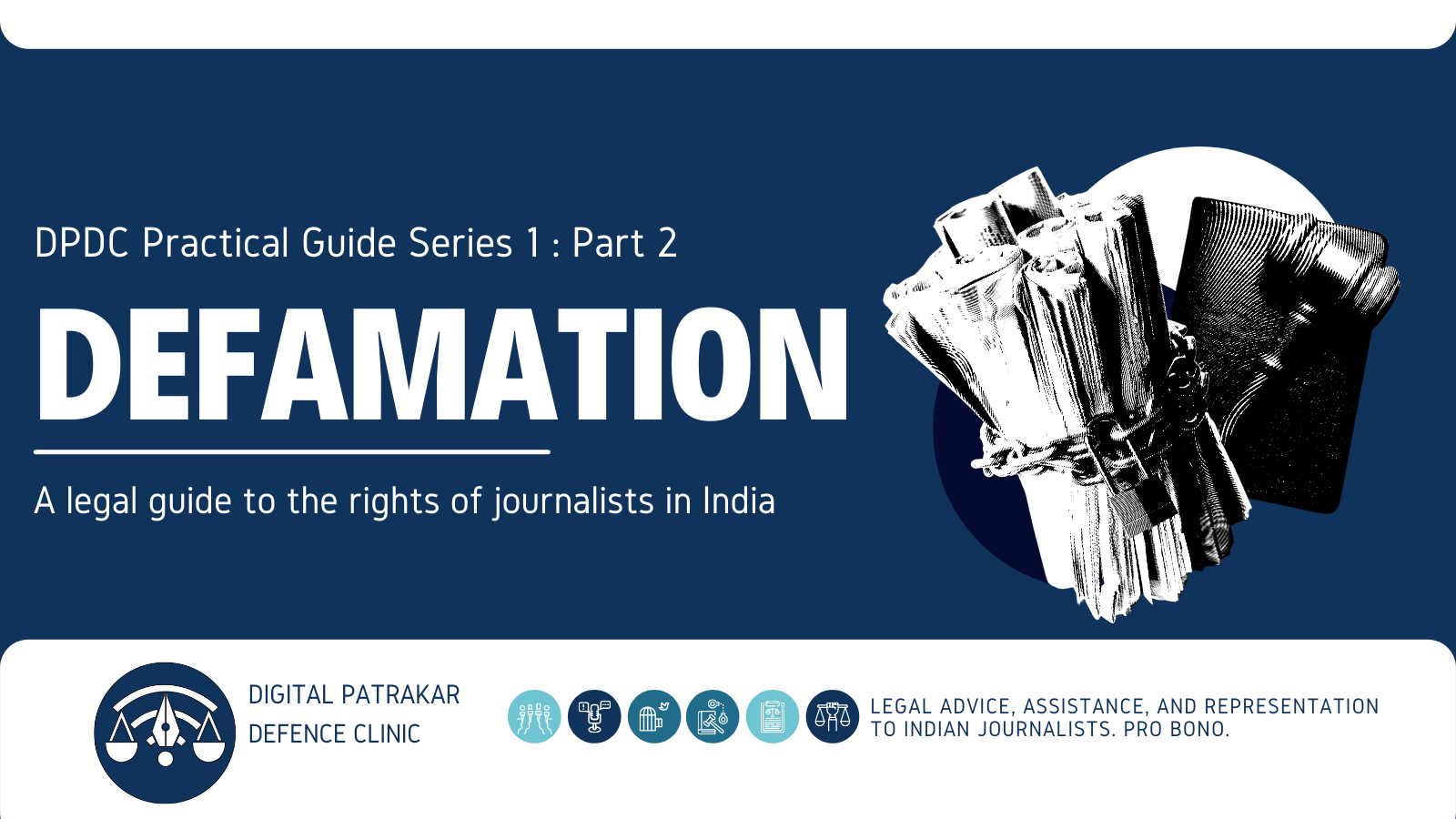 From Akshay Kumar's defamation suit against a YouTuber from Bihar claiming damages worth 500 Crore to Republic TV issuing a defamation notice to stop Navika Kumar criticizing Arnab Goswami, defamation has become a commonly sought remedy against journalists, activists, politicians or anyone expressing their views on a public platform. This is a growing concern since defamation laws are being misused to silence critics; which may be a death knell to democracy. Most of these defamation claims arise out of one expressing their views over actions of others. This blog is aimed at introducing the readers to civil and criminal defamation to enable journalists to understand how the law may impact them.
What is Defamation?
Under Indian law, right to reputation is considered as an intrinsic part of right to life. A defamation claim lies when a person's reputation is maligned. In lay person's parlance, defamation is any message conveyed to a third person bringing bad repute to a person (deceased or alive) such that it lowers the moral or intellectual character or credit of that person in the estimation of others. Defamation in India is actionable under both civil and criminal law.
What is Civil Defamation?
Under civil law, a person may approach the court by filing a civil suit seeking monetary compensation for damage to reputation or an injunction preventing the dissemination of allegedly defamatory material.
What are the conditions to constitute Civil Defamation?
To constitute defamation under civil law, three conditions must be satisfied; First, the statement must be defamatory in nature i.e. which may harm the reputation of an individual. Second, the statement must specifically refer to a person or a group of people. Third, the statement must be made known to any third party other than the person against whom the statement was made. In order to succeed in a defamation suit, the Plaintiff must prove that the statement was more likely to be defamatory than not. Thus, the standard of review is one of 'preponderance of probabilities'.
What are the defences in a civil suit for defamation?
Truth: A statement that harms the reputation of a person is not defamatory if the statement is the truth.
Privilege: Individuals may be protected from a claim of defamation by privilege conferred on them by law.
Fair Comment: Statements which clearly express an opinion are not considered to be defamatory.
What is Criminal Defamation?
At the outset, while defamation is a criminal offence under Section 499 of the Indian Penal Code , it is non-cognizable and bailable.
How is a case for Criminal Defamation initiated?
A person alleging criminal defemation must file a complaint with the concerned court, and the court can direct the police to investigate whether the offence was committed.
Can the police arrest you without a warrant?
The police cannot arrest a person accused of this offence or even investigate whether the offence was committed unless a court takes cognizance of the offence. After the magistrate takes cognizance of complaint, they may direct the police to investigate. Even during such investigation, the police cannot arrest the accused. Once the police completes it's investigation and submits report ('Chargesheet') to the Magistrate, the Magistrate may summon the accused. It is only at this stage the accused must appear before the Magistrate. If the accused does not appear, the Magistrate may issue a warrant and then the police may arrest.
What is the standard of proof?
To convict a person under criminal law, the complainant must prove beyond 'reasonable doubt' the conditions provided under civil law. They must also demonstrate that accused intended to defame them and provide proof that the allegedly defamatory content lowered their reputation amongst the public. However, the complainant can neither claim compensation nor an injunction under criminal law.
What are the defences in a criminal proceeding alleging defamation?
Section 499 of the IPC also lays down exceptions where statements made by an individual will not be considered to be defamatory. Some of the most common and relevant exceptions are:
Truth for Public Good: The threshold is higher since mere truth alone is not a sufficient defense, but it must be shown that the publication of the truth was for public good or in public interest.
Opinion regarding public conduct of public servants only to the extent of his conduct or character as is borne out from the discharge of public function. For example, an opinion regarding a District Collector of his or her bad performance of handling the pandemic might not amount to defamation.
Opinion regarding the character of any person touching a public question.
Critical appraisal of published books, paintings, public speeches, court proceedings, judgements, and stage performances fall under this exception.
Caution for public good or for benefit of person cautioned: A caution in good faith for public good or for benefit of the person to whom caution is conveyed is not considered defamatory.
How should journalists respond to Defamation Notices?
The first step to initiate a defamation suit, either civil or criminal, is to send a legal notice to the person who has allegedly engaged in defamation. Journalist often receive such notices from time. A legal notice indicates that the sender is willing to file a case in court in case the conditions put forth in the notice are not addressed. These conditions may range from a request to remove the allegedly defamatory content from social media/news websites to monetarily compensating the sender.
If you receive such a notice, you must immediately contact your lawyer and ask them to draft a response. In response to the notice, you must ensure that your lawyer - 1) responds to every statement made in the legal notice; 2) responds to the conditions put forth in the legal notice in accordance with your instructions; and 3) sends the reply to the sender or their lawyer by registered post and keeps a copy with themself. You must thoroughly read the reply before it is sent.
Is Criminal Defamation constitutional?
The constitutionality of this provision was challenged in Subramanium Swamy & Ors vs Union of India, (2016) 7 SCC 2021 on the ground that it inhibits dissenters and critics of the government from freely expressing their opinions. The challenge however was unsuccessful as the Supreme Court viewed  criminal defamation as a 'reasonable restriction' on the freedom of speech and expression.
Criminal defamation law is draconian and needs a revisit to keep pace with the dynamic society and the evolution of technology. In the upcoming blogs, we will discuss SLAPP suits, things to be kept in mind while reporting against individuals and organizations and explore greater nuance with respect to qualified privilege afforded to journalist.
We hope that this information helps you understand your rights as a journalist reporting in India. The next guide on the series will address the issue of sedition.

DPDC has successfully conducted 29 sessions between Sept 2021 and Feb 2022 and the lawyers were able to provide pro bono legal aid to 24 journalists. If you are a journalist in need of legal aid, fill this form or write to us at [email protected].

This Guide was prepared with assistance from Bharucha and Partners. This blogpost, or any other blogpost published as a part of this practical guide series does not constitute legal advice.