Protection of Sources for Journalists
20 June 2022, 09:22 am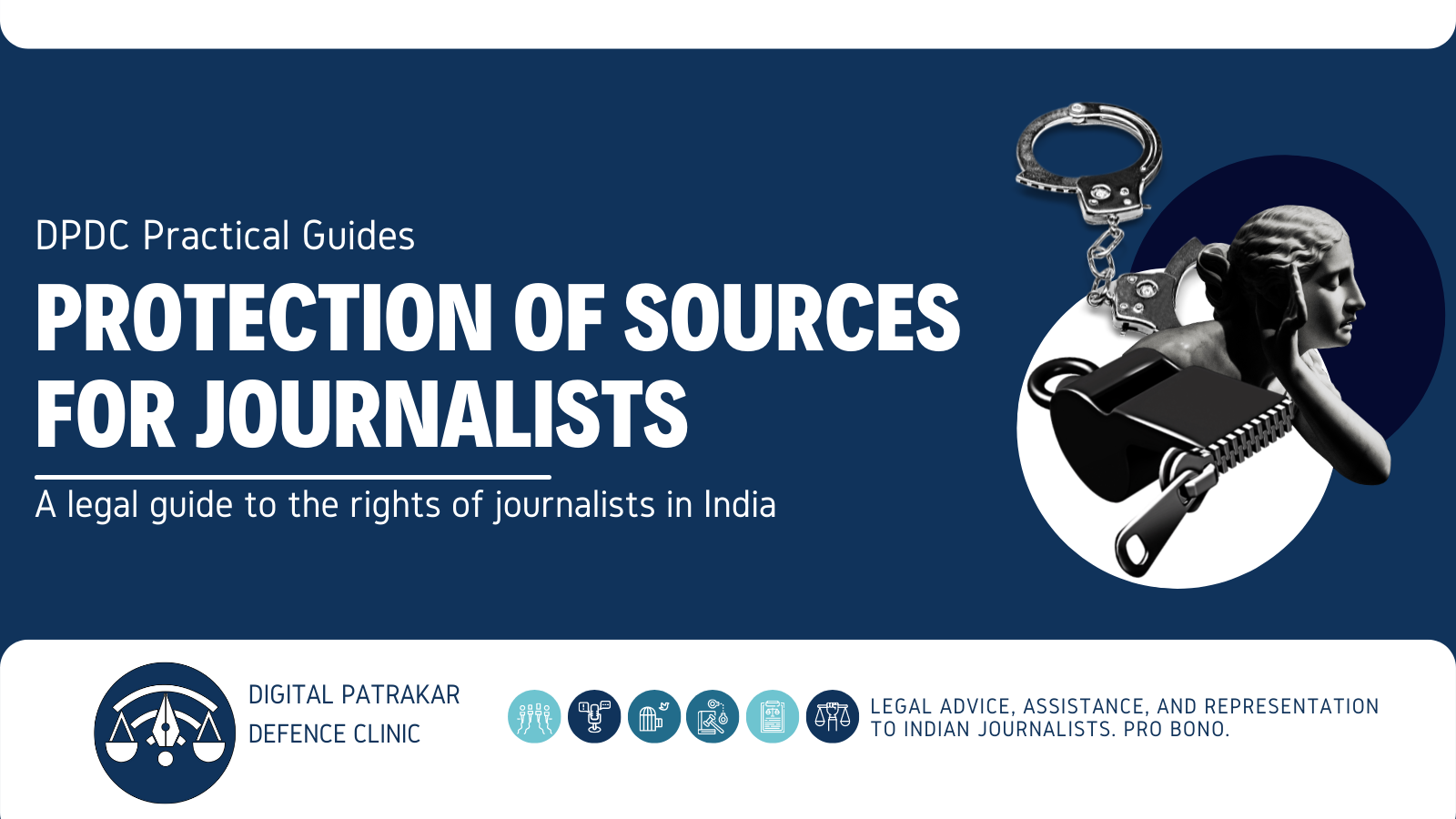 Introduction
A free press is contingent on the free flow of information from the media to the public. Journalists rely on individuals to obtain facts, and opinions on socially, politically, or economically relevant issues. Anonymity is often a precursor to this interaction as individuals who divulge such sensitive information (hereinafter referred to as "Journalistic Sources") may face repercussions that may affect their safety, or job security. Compelling journalists to reveal their sources will result in less Journalistic Sources coming forward, which may hinder the quality of journalism. Protecting Journalistic Sources in the era of mass surveillance poses significant challenges owing to the prevalent data retention and data disclosure norms in the absence of a data protection law.
Does Indian law offer protection to journalists' sources?
While all Indian citizens have the right to freedom of speech and expression under Article 19 of the Constitution of India, this is not an unconditional or absolute right, and is subject to reasonable restrictions or conditions. India does not have any comprehensive law that protects journalists from being made to reveal their sources in legal proceedings. Some laws offer protection to sources in specific contexts. The 93rd and 185th Reports of the Law Commission of India recommended that journalistic privilege, subject to reasonable restrictions, should be codified into law. There has been no development on this, since, unfortunately.
Does the Whistleblower Protection Act, 2014 enable protection of Journalistic Sources?
The Whistleblower Protection Act, 2014 offers protection to people disclosing acts of corruption, wilful misuse of power, or criminal offences by public servants, in public interest. This includes all public servants, including ministers, MPs, members of the lower judiciary (District Court judges), regulatory authorities, central and state government employees.
These disclosures are made to a Competent Authority under the Act (differs, depending on the type of public servant against whom an allegation is raised), who must conduct a discreet inquiry, and conceal the identity of both the complainant and the public servant. The Act also incorporates provisions for safeguards against victimsation, protection of witnesses and protection of the complainant's identity. This protection of identity is offered only with respect to disclosures made before a Competent Authority as defined under the Act i.e. in cases where information regarding wrongdoing by public servants is being disclosed.
What role does the Press Council of India play in protection of Journalistic Sources?
Source protection is offered to journalists in proceedings before the Press Council of India under the Press Council of India Act, 1978. The Press Council of India is supposed to act to preserve the independence of media in India and maintain high standards of reporting and journalism. To this end, the Press Council of India is empowered to conduct enquiries, and is vested with powers of civil courts to conduct enquiries and discharge its other functions. No newspaper, news agency journalist, or editor can be compelled to reveal their source(s) in proceedings before the Press Council of India.
Is this any different [with/on] the internet?
References to protection of Journalistic Sources in the online space in Indian jurisprudence are few. A 2017 UNESCO report titled "Protecting Journalism Sources in the Digital Age" observed that, world over, laws protecting journalists have not kept up with developments in technology, data retention, and data disclosure norms.
Journalists often use social media platforms to gather information for pieces, including through anonymous sources, who might choose to remain anonymous to the world at large for a variety of reasons. Speech on social media platforms is currently governed by the Information Technology Act, 2000 ("IT Act") and Rules notified under the Act. The laws that govern data protection and disclosure by intermediaries are listed as under:
The IT Act requires intermediaries to provide assistance to authorized government agencies to intercept, monitor and decrypt information through a computer resource (Section 69).
The Information Technology (Intermediary Guidelines and Digital Media Ethics Code) Rules, 2021 require for intermediaries, to provide information under its control or possession, to the government agency authorised for the prevention, detection, investigation, and prosecution of offences under any extant law in India [Rule 3 (1) (i)].
While the rules impose obligations regarding addressing grievances, disclosure requirements, nature of content etc. the rules do not correspondingly provide any protection to journalists and news platforms.
Social media platforms with over 50 lakh users (Significant Social Media Intermediaries) that provide messaging services are required to enable the identification of the first originator of messages as may be required by a judicial order or under (Section 69 of)  the IT Act [Rule 4 (2)].
India does not currently have a comprehensive data protection legislation. However, with new data protection laws imminent, the mandatory data retention and disclosure requirements, in consonance with the Information Technology Act and rules issued thereunder, could affect the ability of journalists to obtain information on intermediary platforms. If internet service providers, search engines, telecom companies, and social media platforms can be compelled to produce electronic records of information, any attempt to protect sources of journalists will be undercut by the ease of backdoor access to this data.
Can I be compelled to reveal my sources?
The Delhi High Court observed that journalists, as a class of professionals, do not have an absolute obligation to disclose their sources, but also do not have complete immunity from disclosing their sources [Jai Prakash Aggarwal v. Vishambhar Dutt Sharma 1986 (11) DRJ 121]. The Court, while directing reporters of Jan Satta and Punjab Kesari to disclose their sources for a story alleging that a judicial verdict in the election petition had been fixed, held that if a journalist is compelled to disclose their source, it must be in the interest of justice and not detrimental to public interest.
In a similar vein, the Bombay High Court held that an allegedly defamatory article about the private life of a famous film script writer, while interesting to the public, was not of "public interest," and therefore the journalist could be compelled to divulge his source as the disclosure was not detrimental to public interest. [Javed Akhtar v. Lana Publishing Co. Pvt. Ltd. AIR 1987 BOM 339].
'Public interest' has not been comprehensively defined in this context in Indian law. As a result, Courts are vested with an inordinate amount of power to decide what reportage is and isn't in public interest. If a journalist is asked to disclose his/her source before a Court of law, in a matter of public interest, no law currently provides protection to the journalist from such disclosure. Journalists' sources are typically not provided any protection from disclosure by Courts.
What if I still do not want to reveal my source?
If a Court directs you to disclose identifying information regarding your sources to it, failing to do so will mean you could be held in contempt of court, for failing to obey the Court's order. Contempt of court is governed by the Contempt of Courts Act, 1971, and is punishable with a term which may extend to 6 months, a fine up to  INR 2000, or both. What this means in practical terms is that you are legally duty bound to disclose identifying information about any journalistic source, if so directed by a court of law.
Conclusion
Indian law on source disclosure is limited, and has mostly been determined by courts on a case by case basis. Recently, in a petition filed by youth climate change activist Disha Ravi before the Delhi High Court [Disha A. Ravi v. State (NCT Of Delhi) 278 (2021) DLT579] claiming relief for the leaking of investigative material regarding a case against her by the police to the media, the court directed media houses and journalists to verify the authenticity of their sources before disseminating any further information, but did not compel them to reveal their sources. While Courts advocate for striking a balance, Indian cases where journalists have been afforded source privilege are uncommon.
The protection of sources will lead to greater quality journalism and correspondingly benefit public interest by allowing reportage on sensitive information and stories, while keeping sources safe. The government must relook at the recommendations from the 93rd and 185th Law Commission Reports and lay down definitive guidelines for when a journalist may be compelled to divulge their source.
We hope that this information helps you understand the law on protection of Journalistic Sources in India.
DPDC has successfully conducted 38 sessions between Sep 2021 and May 2022 and the lawyers were able to provide pro bono legal aid to 33 journalists. If you are a journalist in need of legal aid, fill this form or write to us at [email protected].
This Guide was prepared with assistance from Bharucha and Partners. This blogpost or any other blogpost published as a part of this practical guide series does not constitute legal advice.